It's Cyber Monday! To celebrate and help parents, caregivers and family members with Christmas Shopping we will be posting some of favourite toys, games, and equipment that we use and love at OuTcomes Therapy. Our chosen items are not only fun and engaging but they also invite skill development. A win-win for all!
Next up are our some of our favourite construction toys. Construction toys are a wonderful way to promote self-regulation (especially if you develop a play plan prior to starting), are highly engaging, and build hand skills. Two of our favourites are:
1. Magnetic Tegu Blocks – Beautiful magnetic blocks that are amazing to play with – http://amzn.to/2i7MptD
2. For older children, Equilibrio. This is a great game to challenge one's muscle gradation and construction skills – http://amzn.to/2zrrFAr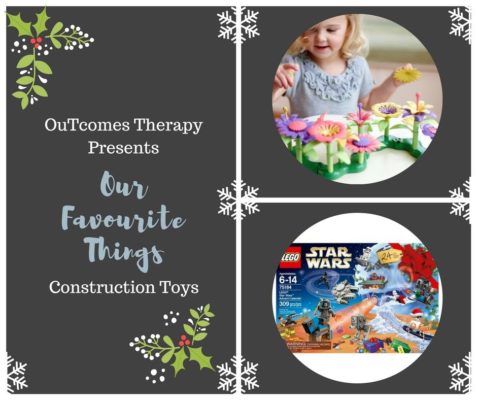 3. At Christmas time, we also love the Lego Advent Calendar – http://amzn.to/2hUQRIj – that encourages children to construct a new item each day throughout the month of December.
4. Green Toys Build a Bouquet – http://amzn.to/2Bt0HtI – which enables children to build an ever-changing arrangement of beautiful flowers.
Happy building!